Loft II,
Slot channel

The accessories fit into to a satin silver anodized aluminium slot channel (M19), which is fixed at the backside of the panel, showing only a slim and unobtrusive groove.
Thanks to a wide palette of brackets the system covers all the merchandising configurations of the ready-to-wear sector, while giving the whole display space a continuous and harmonized look.
The accessories are fitted out with an anti-swinging device to secure their stability in the slot channels.
Product Plus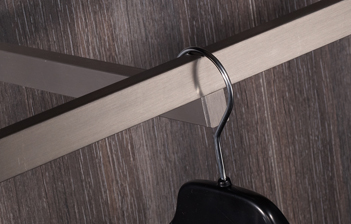 The clothes rail bracket is designed for optimal ergonomics. It lets the coat hanger glide unhindered over the rail, which is fitted out with a welded safety buffer at each end. This way the total available length is usable.

The clothes rail is designed for quick fixing and removal without any tool, while ensuring great stability and perfect squareness. It is compatible with both 600 and 800-mm centre widths.
Materials and details
Slot channel
Materials Aluminium
Details AS: Satin silver anodized
Accessories
Materials Stainless steel
Details Brushed