Square Classic 200
The SQUARE CLASSIC 200 range offers the professionals a great variety of modular applications with glass shelves. Various brackets lengths allow for adapted display of any type of product, which leaves the interior designer total freedom.
The brackets are made of an aluminium alloy accepting (silver or golden) anodized finish.
Product Plus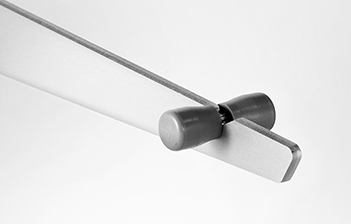 Thanks to the choice between built-in anti-skid caps or removable saddles the systems adapts to any type of application.
Materials and details
Slot channel
Materials Aluminium
Details AS: Satin silver anodized
O2P: Bright gold no. 2 anodized
Shelf brackets
Materials Aluminium
Details AS: Satin silver anodized
O2P: Bright gold no. 2 anodized